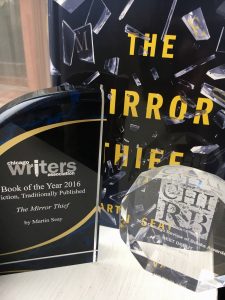 In its first-annual Chirby awards, the Chicago Review of Books has named THE MIRROR THIEF the best debut of 2016 from a list of distinguished finalists that also included THE HOUSEGUEST by Kim Brooks, AND AGAIN by Jessica Chiarella, HEARTBREAKER by Maryse Meijer, TOO LIKE THE LIGHTNING by Ada Palmer, and TACKY GOBLIN by T. Sean Steele.
Other Chirby winners included Abby Geni for THE LIGHTKEEPERS (best fiction), Natalie Y. Moore for THE SOUTH SIDE (best nonfiction), and Abigail Zimmer for CHILD IN A WINTER HOUSE BRIGHTENING (best poetry).
The Chirby is the second regional literary award won by THE MIRROR THIEF, following the Chicago Writers Association 2016 Book of the Year Award for traditionally-published fiction.
Martin's essay "New Strategies for Invisibility" was also recently reprinted in MAKE X, the tenth-anniversary anthology of selections from MAKE literary magazine; the essay originally appeared in the spring/summer 2010 issue.
Additionally, Martin's essay about the song "No Myth" by Michael Penn recently appeared in Ander Monson's and Megan Campbell's MARCH FADNESS, a single-elimination bracket-style tournament to determine the greatest one-hit-wonder of the 1990s.  ("No Myth" advanced to the second round, where it was defeated by "Don't Wanna Fall in Love" by Jane Child.)